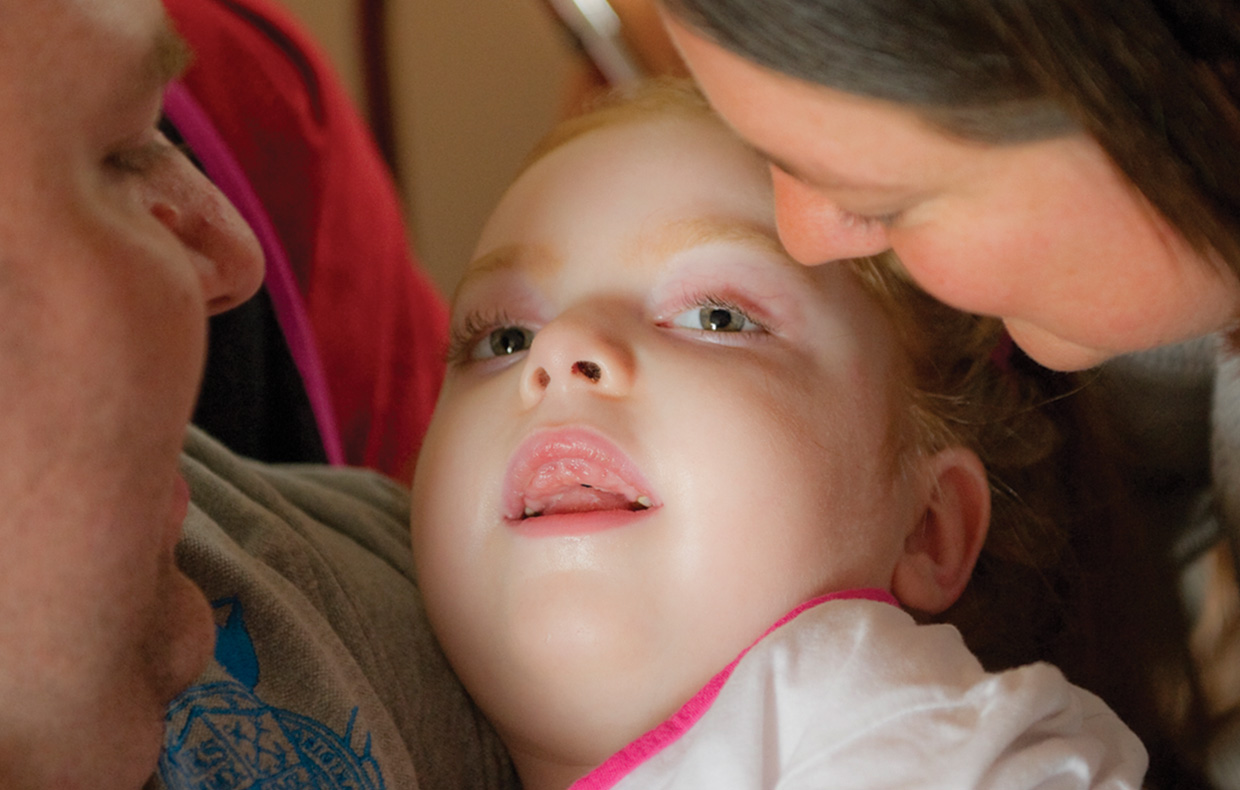 Abbie Elizabeth Boyd was born September 2005. Abbie is the oldest of our 3 children, she has a sister Robyn (Dec 2006) and brother Sean (Mar 2008). Abbie was what you would say was a "NORMAL" baby doing everything babies do until about 14 month old when we noticed that she wouldn't take her first independent steps. We contacted our GP & health visitor about our concerns on numerous occasions but were told that its not unusual for babies not to walk till they are 2 years old and it's only then that any testing can be done. We continually contacted our GP and health visitor over the next few months and were eventually referred to a specialist health visitor at Yorkhill Hospital, Glasgow, in July 2007.
The specialist health visitor confirmed to us that Abbie's development was not 'NORMAL' and she referred us to a general paediatric consultant who we saw in Dec 2007. The consultant's first thoughts were that Abbie had spastic diplegia, but wanted Abbie to undergo an MRI scan, which then did not take place until April 2008. Following the scan we were referred to Fraser of Allander Neurological Unit at Yorkhill Hospital, Glasgow. We were told that something had shown up on Abbie's MRI and they would need to do blood tests. At this stage we were never given any real idea of any condition just that it was neurological. Two week s after the blood test we got the results on the 28th May 2008; a date that I or my wife Lisa will never forget.; the worst day of our lives so far, when they told us that Abbie had MLD.
During the next couple of months we were inundated with hospital visits to various specialists, all of whom have been a great help with Abbie. The social services department was the polar opposite unfortunately, and has not changed for us throughout the years — more hindrance than help!!!!!! After diagnosis Abbie's health went downhill dramatically and by October 2008 Abbie could no longer eat, walk, crawl or talk as she had earlier in the year.
At this time Abbie got a gastrostomy peg tube and had her 1st stay in Ward 7a Yorkhill. Abbie spent the next year or so in & out of hospital suffering from a chest infection, dehydration, & viral infections. Then in October 2009 Abbie contracted swine flu, and we thought this might have been her final battle; but Abbie had a different idea and our wee fighter fought hard, and overcame the infection having spent 5 weeks in hospital.
In Jan 2010 Abbie had her saliva glands removed to help reduce her secretions, and after this operation she was pretty much stable, although there was some deterioration in her overall condition requiring some short stays in hospital. Then in April 2011 Abbie gave us another big scare with a major chest infection that had affected her lower lungs, and once more we prepared for the worst but our brave girl proved us wrong again!!!!!!!! After a long battle with the local housing association we finally got appropriate adaptations to our house which were completed in March 2012. This has completely changed our wee girls life, and she is happier, healthier, and loving her own space.
Abbie is the cheekiest of our 3 children. For a girl that cannot speak she certainly knows how to get her own way! Her smiles brighten up the darkest of rooms & she always laughs at the most inappropriate times. She has the most wicked sense of humour and loves nothing more than her brother and sister getting into trouble.
After Abbie's diagnosis we were referred to CHAS Robin House for palliative respite care. When we went on our first visit in August 2008 we did not think it was for us, and it took us another year to return. We now go five or six times a year, have made friends there, and met a lot of people in similar situations as us. We could not live without the support of Robin House, and it is now an integral part of Abbie's care.